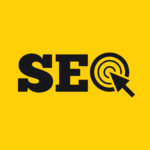 Get found online

Search Engine Optimization
You've probably heard people talking about SEO. It's the latest buzzword in marketing. Basically, it means how much Google and other search engines love you.  You see, when you follow certain rules that these search engines have created, they will start ranking you higher. What does that mean? When internet users search certain terms or keywords, your website will be "accidentally found" in the search results. Search Engine Optimization, or SEO, differs from Search Engine Marketing. SEO means you've shown up in the results without paying for that ranking.
SEM refers to any paid advertising or PPC (Pay per Click) ads you've got running. For example, if you see a listing at the top of the Google search results and there's little "ad" beside the listing, then someone like Fetch & Ripple has paid to place that ad. The listings below those paid ads are organic listings and those businesses got there through SEO practices. Again, probably using Kelowna SEO experts, like us!  Both are important.
Our SEO practices are always White Hat and include but are not limited to: