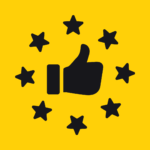 Kelowna's best

Online Reputation
Have you ever looked at Google reviews, the stars a business has on Facebook or Yelp? Of course, you have. And which business did you pick to call? The one with fifteen 5-star reviews or the business with one 1-star review?
92% of consumers read online reviews and 84% of these people trust wholeheartedly what they read. How many reviews or stars does your business have right now?
You may be struggling to get 5-star reviews even if you're providing superior service because human nature is more prone to complain about the small things than praise when great service is received. Hey, we don't make the rules – we're just tellin' it like it is.  It's difficult and time-consuming to ask for reviews, however, your online reputation depends on it.  
There are 3 major hurdles you probably face when it comes to online reviews:
All understandable worries! So, what to do? 
Go to our contact page and ask us how we can easily gather AWESOME reviews at an affordable price.