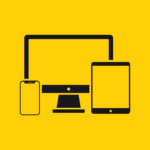 Make your best first impression

Website Development
You're a small business with a small budget. We get it! Website design can eat away at a marketing budget rather quickly. So, instead of slapping together a so-so website just so you have "something" on the internet. Talk to us! 
Because we work a little different. We're a group of freelancers who have been working in marketing for a combined…oh yikes, should I even say it? It's over 150 years! 
Whether you need a small "just get me on the internet site" or a large full scale ecommerce site, we have the people! Right here, in Kelowna! 
But, if you're outside of Kelowna? Don't worry! We help you too. We write web content, SEO'd to the max, that will suit any market to get you found in Google search results. 
Fetch & Ripple Marketing's web designers in Kelowna deliver solutions that reflect your brand and support your business goals. Our team is committed to serving our customers, our industry and community. You don't have to shop around in Vancouver or Toronto for an awesome website. You can stay local! And if we've learned ANYTHING recently, shopping local is where it's at.
After hundreds of web design and development projects, we are proud of our reputation for client service and success. We are devoted to listening, planning and managing projects flawlessly and within your budget.